Dunan's Self Catering Holiday Cottage accommodation available with Trout Fishing and or Deer Stalking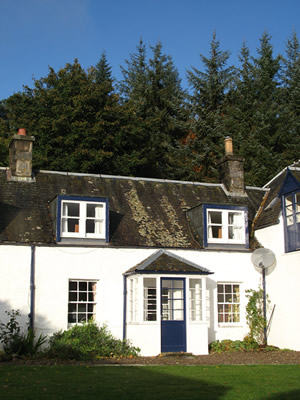 Accommodation - 3 twin, 1 bathroom, sleeps 6
click this link to view the Dunan cottage virtual tour
Landline telephone Wi-Fi internet
Good Vodaphone coverage

 POA but normally £60 per night per person
Located in the Scottish Highlands near Rannoch Station with direct train to London, Glasgow Fort William & Mallaig.
The cottage is well maintained with 3 twin bedrooms, modern bathroom, kitchen & sitting room.
Loch & River trout & pike fishing is also available. Beautiful scenery with lovely walks. Bird watching. Train journeys on West Highland Lines
Within an hour's drive of Pitlochry, Blair Atholl & Aberfeldy.


Dunan's self catering holiday cottage is on the lodge courtyard with access to the walled private garden and fenced outer garden alongside the river. The gardens provide a safe, sheltered haven for readers and small children alike.
The cottage was recently refurbished and now offers comfortable and practical holiday accommodation for up to six guests. There internet access as well as a phone line in the cottage. Mobile Vodafone works in both the cottage and the lodge.
The three bedrooms have twin beds which can be converted to double beds if required. The ground floor has a twin bedroom and all living areas making it ideal for those for whom stairs pose a challenge.
The kitchen is well equipped with an electric stove, microwave, fridge and freezer. For the evenings if cooking is a chore there are local restaurants.
The lounge area has an open fire making it a snug place to relax at the end of the day, telling tall fishing tales and sipping a fine Scotch. A television, with a VCR and DVD player and a small library of films is available. Firewood is provided by the Estate.
A separate laundry room attached to the cottage has a walk in drying cupboard, two washing machines and a tumble dryer. A large freezer is also in the laundry. All cleaning materials, towels and linen are provided.
Dogs are welcome but must be under control. They should normally go in the kennel and only in the cottage with special permission from the owner. Kennels are available. Please advise in advance if you wish to bring your dog. Guests are asked not to smoke in the cottage.
Transport can be arranged to and from Rannoch Station and Edinburgh or Glasgow airports if required.

To View the Cottage Interior please click on this link below to view 
Dunan Estate Main Lodge
The Main Lodge is available to let out at £1500 + VAT per week. There are 5 double bedrooms and three bathrooms. A visual tour is available on request. This is let for accommodation with Stalking and fishing. Please email us for more details